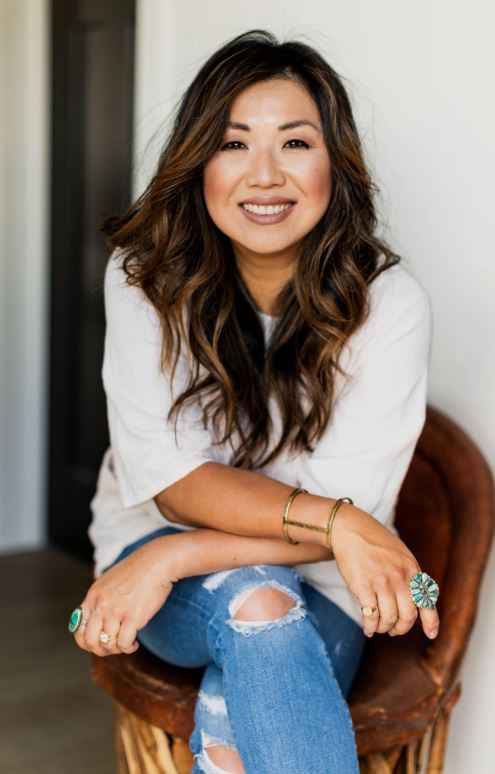 (Nashville, Tenn.) February 9, 2023 – Bestselling author Ruth Chou Simons has inked a six-project deal with Thomas Nelson, across three of the publishing groups' imprints, and HarperChristian Resources. The multibook deal includes a children's book, two devotionals, a trade book, a lifestyle book, and video study curriculum.  
The first book of the new deal will be a children's book, Simons' first, slated to release in the fall of 2024 with Tommy Nelson, the company's children's imprint. Thomas Nelson Gift, Nelson Books, and HarperChristian Resources imprints will also publish projects as part of the new deal. Subsequent project timelines have not yet been released, though expected to fall into the 2025 and 2026 calendar years.
"Ruth—an artist, mother, speaker, and entrepreneur—intimately knows how to speak to readers," said MacKenzie Howard, executive editor at Thomas Nelson for the Children's and Gift Book division. "Working with her in this capacity is an incredible opportunity to elevate Ruth's life-giving messages and stunning art. Our teams across Thomas Nelson are excited about utilizing our many and wide-ranging resources to collaborate on a dynamic interdisciplinary go-to-market strategy to position Ruth as a leading voice in Christian life."
"I'm honored to partner with Thomas Nelson and Harper Christian Resources for these upcoming projects and can't wait for the Kingdom impact we'll have together," said Ruth Chou Simons.
Simons' book When Strivings Cease: Replacing the Gospel of Self-Improvement with the Gospel of Life-Transforming Grace was released on October 12, 2021, through Nelson Books.
Jenni Burke of Illuminate Literacy Agency negotiated the book deal.
About Ruth Chou Simons: Ruth Chou Simons is a Wall Street Journal bestselling and award-winning author of several books and Bible studies, including GraceLaced, Beholding and Becoming, and When Strivings Cease. She is an artist, entrepreneur, podcaster, and speaker, using each of these platforms to spiritually sow the Word of God into people's hearts. Through her online shoppe at GraceLaced.com and her social media community, Simons shares her journey of God's grace intersecting daily life with word and art. Ruth and her husband, Troy, are grateful parents to six boys—their greatest adventure. Learn more at RuthChouSimons.com.
About Thomas Nelson: Thomas Nelson is a world leading publisher and provider of Christian content and has been providing readers with quality inspirational product for more than 200 years. As part of HarperCollins Christian Publishing, Inc., the publishing group provides multiple formats of award-winning Bibles, books, gift books, curriculum and digital content, with distribution of its products in more than 100 countries. Thomas Nelson is headquartered in Nashville, TN. For additional information visit ThomasNelson.com.
About Tommy Nelson: Tommy Nelson® is the children's division of Thomas Nelson. As a leading provider of Christian content, Tommy Nelson offers a wide variety of high-quality products, designed to expand children's imaginations and nurture their faith while inspiring them toward a closer relationship with Jesus. For more information visit TommyNelson.com. 
Media Contact:
MacKenzie Collier
Thomas Nelson Gift Books