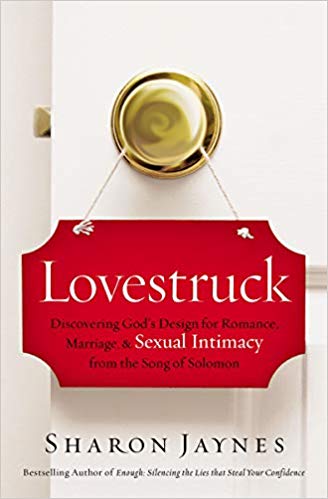 Nashville, TN (May 2019) – Our culture is in a crisis to understand and appreciate the beauty of sexuality. Scripture places a high value on sexual intimacy, but secular society promises that satisfaction can be found in cheap carnal indulgence. What is really true about the nature of sex? In Lovestruck: Discovering God's Design for Romance, Marriage, & Sexual Intimacy from the Song of Solomon (Aug. 6, 2019; ISBN 9781400209644; $17.99), author, speaker, and Bible teacher Sharon Jaynes reclaims the narrative of romance by discovering God's design from the Song of Solomon.
"For too long the church has treated sex as a taboo subject," says Jaynes. "Scripture shows us that sex is not an evil that marriage permits but a gift that marriage protects."
Through an in-depth study of the Song of Solomon along with scientific research and psychological data, Jaynes explores the story behind sexuality and the creative ways that God designed pleasure to be experienced. However, Jaynes' approach goes beyond facts. "Many of the marriage books out today," Jaynes explains, "focus on the how-tos of building successful marriages. Tips. Tricks. Tactics. And, yes, there's going to be some of that here, but the main focus we'll bring to the Song of Solomon is not the how but the why." In Lovestruck, Jaynes answers essential questions that form the foundation of a lasting marriage, such as why God created physical attraction and why the passion in many marriages grows cold over time.
Lovestruck is a call for married women to reclaim romance and find fulfillment in sexual intimacy with their husbands. According to Jaynes, "the Bible boldly paints a beautiful picture of how sexual intimacy can be when we pursue love the way God purposed it to be from the beginning." With scripture lighting PO Box 141000 Nashville TN, 37214 tel: 800.251.4000 web: www.thomasnelson.com the way, women in all stages of life and marriage can find hope and help in this daring book that invites readers into the profound journey towards true intimacy. For more information about Lovestruck, please contact Shea Nolan, [email protected].
###
Sharon Jaynes has been encouraging and equipping women through ministry for over twenty-five years. She served as Vice President and radio cohost of Proverbs 31 Ministries for ten years and currently writes for their online devotions and First 5 Bible study app. Sharon is also an international conference speaker, author of more than twenty books, and the founder of The Praying Wives Club™ and co-founder of Girlfriends in God, Inc. She has been romancing her husband, Steve, for thirty-eight years, and they make their home in Weddington, North Carolina.
###
About Thomas Nelson:
Thomas Nelson, part of HarperCollins Christian Publishing, Inc., is a world-leading provider of Christian content and has been providing readers with quality inspirational product for more than 200 years. The publishing group provides multiple formats of award-winning Bibles, books, gift books, cookbooks, curriculum and digital content, with distribution of its products in more than 100 countries. Thomas Nelson is headquartered in Nashville, TN. For additional information, please visit www.thomasnelson.com.